"The rebuild starts today" is the attitude my husband has taken for his businesses. It may be a bit early, but it changes the mindset to start planning for how we're going to come out of this pandemic. For two weeks, it feels like we've been ostriches sticking our heads in the sand. Perhaps it's time to raise our heads. It's never too early to strategize about available options and develop a foundation to rebuild, maybe with a new perspective.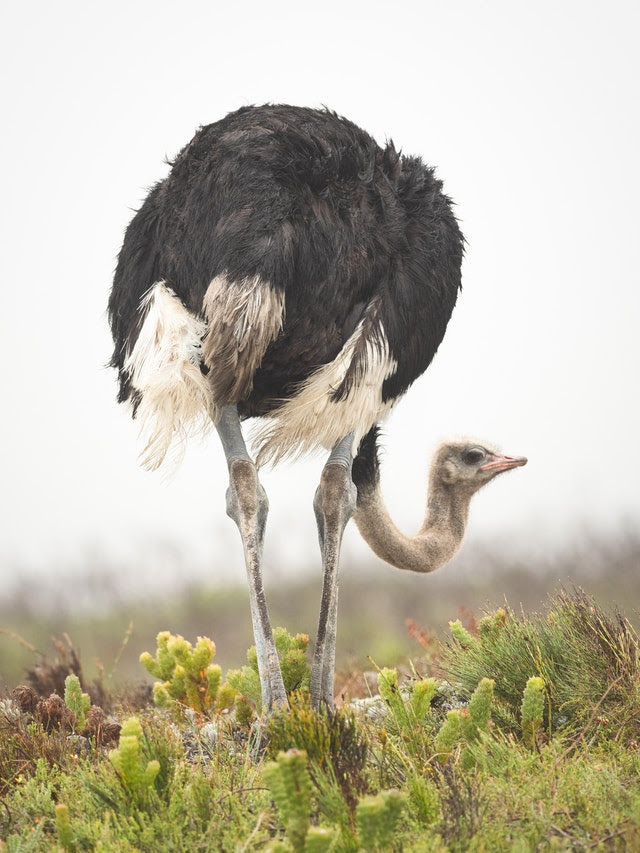 How often before March 15th, when asked, "How are you?" did we respond, "busy"?  The world was running, running, running, and then abruptly stopped. In An Echo in the Darkness part of the Mark of the Lion series by Francine Rivers (one of my favorite series), the mother of the hero has a stroke and can no longer talk. Her life changes overnight. No longer a prominent matriarch of Roman society, God reaches her through this suffering and uses it as an opportunity to redirect her focus to pray for the spiritual salvation of her misguided daughter.
It's time for us to raise our heads and see the opportunities God is creating for us. Maybe we should acknowledge the new shift in priorities. How are we using the extra family time we didn't have before the pandemic? Or if living alone and can't see friends, maybe God is giving us a chance to pray more or read our Bible.

Many of us have been glued to the news channels, following what's going to happen next, which only tends to be bad news, followed by more bad news. In Philippians 4:8, the Bible tells us to dwell on things that are true, noble, right, pure, lovely, admirable, excellent, and praiseworthy. Easter changes the direction of focus from death to new life. The stone was rolled away. The tomb lay empty. Jesus rose from the dead. This is our opportunity to also rise from the monotony of our deadened mindsets. We hold a chance to be renewed with life.
Let me back up a bit to Philippians 4:1. Paul reminds us to stand firm in the Lord. Not relax, sit, or lie, but to stand firm. In Philippians 4:2, he begs for unity—to be of the same mind in the Lord—not turning on each other, bickering, or nitpicking, but let your gentleness be evident to all (Philippians 4:5).
In 4:4, Paul tells us to "Rejoice in the Lord always." But then he makes it a point to repeat himself to drive it home, "I will say it again, rejoice." At Easter, we have so much for which to be joyful. The world may shake with fright, but we know Jesus has risen from the dead, and the grave no longer has a hold over us.
We have hope because we have a good God. We don't need to fear because we have a great God.
In Philippians 4:6, it says, "Do not be anxious about anything, but in every situation, by prayer and petition, with thanksgiving, present your requests to God." We don't need to worry. Because God commands it, we can toss anxiety away like that moldy leftover smelling up the fridge. Instead, through prayer and praise, we can tell God what has been on our minds, and in Philippians 4:7 God promises that His peace, "which transcends all understanding," will guard our hearts and minds.
So, rise and rejoice, Easter is here!
Don't miss a post! Sign up for my weekly blog by clicking here: Lorri's blog.