One of my favorite things to do when I was younger, was ride bikes. My friends and I would pump our legs and work up a sweat getting to the top of the neighborhood hill. The reward came when we'd loop around and coast back down. I used to stand up, lock my knees, and let the wind lift my hair and whip it about like a banner behind me. It felt like true freedom. Eventually, we'd roll to a stop, turn around, and work to get back up that hill.
Famous actor, Sam Waterston, said, "If you're not moving forward, you're falling back."
That is the problem with coasting. Eventually, we coast to a stop. King David, discovered this concept the hard way. In 2 Samuel 11, it says that "After the year was expired, at a time when kings go forth into battle… David tarried still in Jerusalem." I love the word expired because it not only signals the end of something, but it gives the impression of breathing out, like a long sigh after a hard day's work. David had seen many battles with his mighty men. He was war-torn and probably exhausted. He decided to sit one out, and who can blame him?
C.S. Lewis in his book, The Screwtape Letters, eloquently demonstrates the idea that the devil's best weapon in his arsenal is complacency. If he can get us to coast, eventually, we'll roll to a stop. We'll forget our purpose, become bored, and that's when the trap is set. For David, the trap was a lovely woman bathing on the rooftop, named Bathsheba.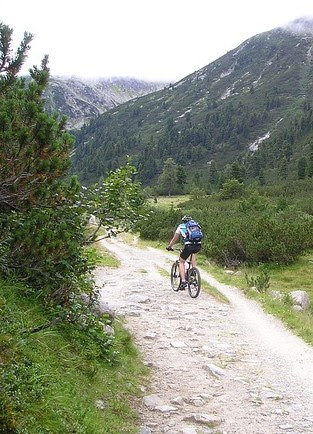 I'm not saying don't coast. We need to celebrate our successes, take a breather, and let the wind whip through our hair. However, don't roll to a stop. Give God the glory, then turn that bike around and climb the hill again. Be on your guard while you're coasting. Don't become complacent. Don't let boredom lead you down a dark path. Don't get stuck at the bottom of the hill. Rethink taking a break if you're prone to losing motivation. Whether it's in work, personal, or your spiritual life, push yourself to keep growing, learning, and seeking God's face.
Keep your eyes on Jesus and keep moving forward, that way you don't wake up one day and look around wondering how you got so far from all the things you once valued.
Don't miss a post! Sign up for my weekly blog by clicking here: Lorri's Blog.